Temperatures change drastically throughout the year on Osage Beach, MO from extreme heat to freezing cold. Homes are therefore equipped with both heating and cooling systems so families are able to remain comfortable during each season. If any device malfunctions, including plumbing fixtures, it's crucial homeowners connect with a comprehensive plumbing and HVAC company.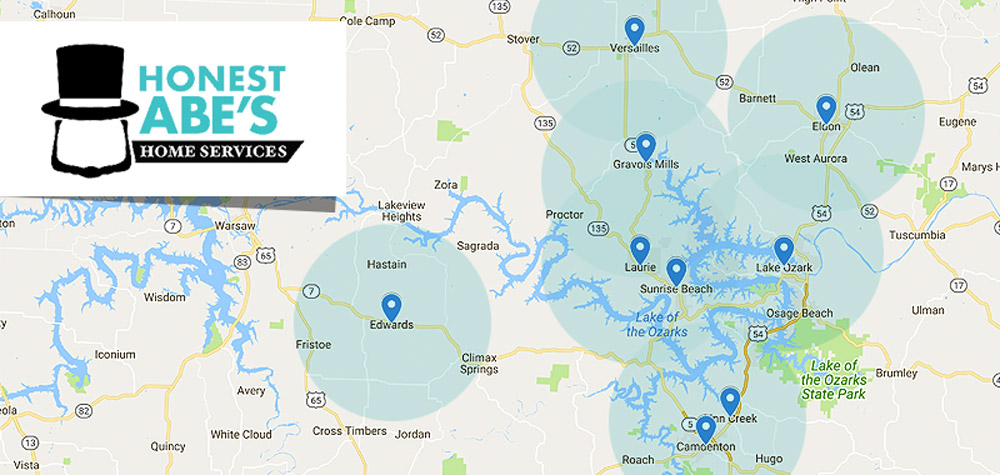 Good thing the experts at Honest Abe's Home Services are capable of serving a full plate of plumbing, heating and air conditioning services to homes in the region. We have a competent crew chock-full of skill and experience, ready to take care of any situation thrown at them.
We're able to reach the following communities:
Come browse the promotions we're advertising on our coupons page to find out how much you can save on your next service call.
Extreme Satisfaction Guaranteed
Homeowners facing any kind of plumbing, heating or air conditioning problem can have confidence in the ability of our team to come up with a speedy solution. We want to ensure your family is comfortable and healthy throughout the year. Every piece of equipment in your home is treated as if it were our own, and we back up our first-rate service by providing checkups every six months minimum.
There's no situation our technicians can't handle, and we're eager to lend a hand with any issue no matter how big or small. We're dedicated to delivering extreme satisfaction to all our customers.
Why Work with Honest Abe's Home Services?
Every project we undertake is conducted with your family's safety and comfort top of mind. We're dedicated to professional service and expressing a respectful attitude. It's important you trust our technicians, as they work hard to give you a stress-free experience. They will always be straight with you in terms of the job at hand and pricing. It's important for us to maintain a high level of customer service.
On top of all that, we offer 24-hour emergency services. Preparing for every type of emergency is a nearly impossible task, so we want to assure homeowners no matter what might happen we've got them covered. We want you to lean on our experience and expertise when it comes to plumbing and HVAC disasters. Give us a call any time, day or night, you run into trouble and we'll be ready to lend a hand.
Go through our customer reviews page to see what people in your area have to say about our services.
Your subscription is not active
Please visit the admin site to re-activate your subscription