What's not to love about June 21st, the World's longest day: 17 hours of sunshine, summer fun, and extra opportunity to enjoy time with your friends and family.
Planning some outdoor plumbing activities for everyone to enjoy will ensure everyone has a great time while also staying within budget. Fun with water is a great and low-budget way to beat the heat and if you're in need of some ideas, take a look below:
Use a Sprinkler & Slide to Boost Outdoor Fun for Everyone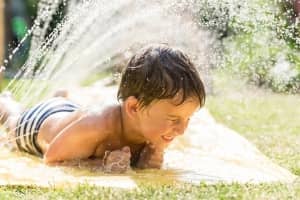 There's a reason there's a long-standing tradition of running through the sprinklers in summer: it's both fun and nearly doesn't cost a dime.
All of your family and friends can have some fun running and playing in the sprinklers, plus your grass will get the added boost of some extra water!
If you really want to supercharge your water fun, consider adding a slide to your sprinkler fun. You can usually grab a slip n' slide for a good price at a local store; your kids (and let's face it, adults) will thank you! Turn on the sprinkler and slide into fun!
Start Water Hose Fights with Your Family and Friends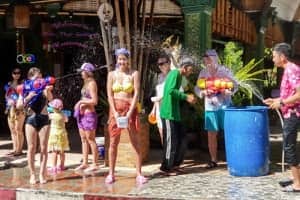 Water hose fights require nothing but a hose, an outdoor spigot, and an unsuspecting friend or family member. Starting a water hose fight can be a cheap and fun way for everyone to have a laugh while staying cool in the hot summer sun.
However, it's important to keep an eye on water usage with this activity as it can quickly add up to too much water consumption if your not careful, which will lead to a higher water bill at the end of the month.
As long as you time this activity and pay attention, everyone should still be able to enjoy this activity and have fun. If you're still concerned, or if you want to add an extra boost of fun, try having a water gun fight instead, at Honest Abe's Home Services we really want you to have fun this summer!
Grab a Pack of Water Balloons and Have a Blast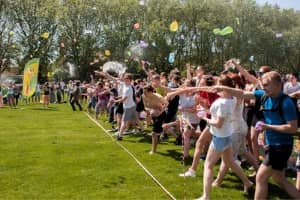 When it comes to budget-friendly water activities this summer, you almost can't find a cheaper activity than water balloons. Kids and adults alike will have a blast filling up the balloons and making a splash all over the yard.
On this upcoming World's longest day, be sure to remain conscious of water conservation while you and your family are having fun. It's important to have fun in the sun, but it's also essential to conserve one of Earth's most precious resources - water.
If everyone does their part this summer to conserve water, it helps ensure your community looks great and keeps your parks green. Water conservation is also vital in making sure not too much energy is wasted in procuring it, and is also important in making sure everyone can continue to enjoy water sports and activities.
Every year, when the longest day of the year rolls around, make some lasting memories with your loved ones while also preserving one of Earth's most precious resources. Your wallet and our planet will thank you!