When it comes to the space you live in, a large space isn't always needed, wanted, or affordable. It's been a trend lately for a lot of people to invest in "tiny homes" instead of larger or more traditionally sized and placed homes.
A tiny house is generally a structure under 400 square feet; people often enjoy the lower maintenance that comes with these homes, fewer utility bills, and the ability to place the home almost anywhere they desire. It's also easy and cheap to keep a tiny home cool in the summer and warm in the winter, which is appealing.
Even if you personally don't reside in a tiny home, you may live in a smaller space like a one studio apartment and are interested in ways to keep your space cool for less. In this article, we'll visit how effective portable air conditioners can be, how useful ductless HVAC systems can be, and why smart thermostats can be helpful.
The Pros and Cons of Portable Air Conditioners
If you're looking for an effective way to cool the main room or bedroom in your house, a portable air conditioner is a route you may want to take. Be sure to measure your room accordingly if you decide to go this route; your unit should be large enough to accommodate the square footage of your room properly.
Below are some pros and cons you should consider before making your decision:
Pros
No installation is necessary. Unbox and use.
Does not block windows as a window unit does. Simply takes up a small amount of floor space.
Cheaper than the installation and maintenance of central AC.
Generally, a 450 square feet space can be covered with one unit.
Cons
While generally cheaper to run, it can potentially raise your electric cost because you do still need to plug it in.
Units can be a bit noisy, although some enjoy the background noise.
What Is A Ductless HVAC System?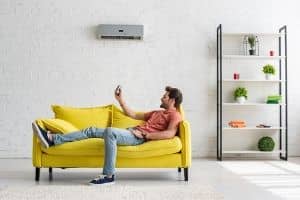 A lesser-known, but equally as good option to keep your smaller space cool is a ductless HVAC system. A ductless HVAC system is a wall mounted unit that can be installed in your home and used with an outdoor compressor.
This can be a wonderful option because it does not take a lot of space to install and you won't have to deal with often poor energy efficient ductwork.
As a matter of fact, with a ductless HVAC system, you can find yourself saving upwards of 30% in utility costs for your heating and cooling. Sometimes, users can even qualify for a tax credit when they switch to this type of system.
Smart Thermostats Are an Essential Upgrade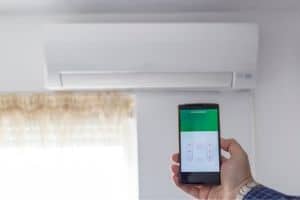 Smart thermostats are probably one of the best inventions to date when it comes to effectively utilizing your home's energy.
Not only can you maximize your AC cooling in a smaller space or tiny house with a smart thermostat, but you can also gain better control of temperatures within multiple rooms in larger houses.
Smart thermostats allow you to better monitor your home's energy usage and temperature control right from your smartphone; allowing you to make better decisions and changes when it comes to your homes cooling efforts.
If you are considering better options for your current space or tiny house, it's usually best to bring in an expert to assess your home's needs and provide recommendations on what will work best. Contact us today, and we can send one of our qualified technicians out ASAP to get your AC installation needs taken care of.