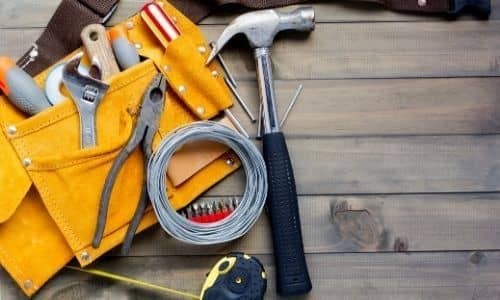 What HVAC Tools Are Used by Technicians?
Heating, air, and ventilation systems are complicated and can require a variety of tools for installation, maintenance, and repairs. When selecting the right technician to service your family's HVAC unit, ask them about what kind of tools they use to gain some further insight into the quality and safety of the services offered. Different tools are needed for different jobs like heat pump services, and in addition to the essentials, there are specialized tools that may be required as well.
Professional HVAC techs who offer top of the line services will have the correct tools available to them for every job, as well as the proper safety guards to protect against burns, falls, and other accidents. This article gives an overview of some of the professional tools used by HVAC specialists and what they are for.
HVAC Tool Box: The Essentials
In every HVAC technician's
essential toolbox
you should find the following things: a hammer, screwdrivers, and pliers. These three tools are the bare minimum for the essential tools that an HVAC technician will have at their disposal. The right kinds of screwdrivers, clips, and wrenches are important to forming secure connections that are safe and long-lasting.
HVAC systems have lots of small parts and metal parts. These components require precise tools such as pliers and screwdrivers to accurately manipulate them into the correct positions. A tape measure is also useful for accurately making measurements and should be in every toolbox. A ladder or step-stool should also be included for reaching hard to reach spots. The ladder should be high-quality and certified safe to prevent any accidental falls.
Examples:
Hammer
Pliers
Screwdriver
Tape measure
What Are Specialized Tools?
Specialized tools are tools that are not needed for every job, but are required for specific tasks. For cleaning ducts, you need a completely different kind of toolset than for installing a new furnace, for one example. Specialized tools can include different kinds of power drills and saws, multimeters, and thermometers for determining the temperature. When working on heating and cooling, a correct thermometer is necessary for precision.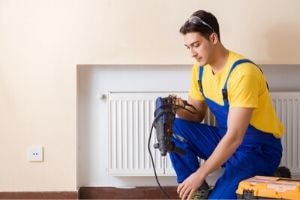 The kind of tools needed will depend on the individual job, and reputable HVAC repairman will have these tools at their disposal.
Examples:
Drills
Saws
Thermometers
Multimeters
Gauges
Safety Precaution First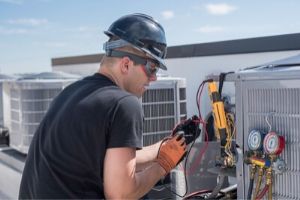 There are some dangers involved with technicians working on HVAC units. There are metal parts, electricity, moisture, and heat all involved with different aspects of heating and air conditioning. These can create a dangerous environment, with the potential for gas leaks, burns, fires, electrocution, falls, and more.
To ensure the safety of the technician, they should always wear flame-resistant clothes, thick, high-quality gloves, and slip-proof shoes. If the technician were to fall it can not only risk broken bones and bruises for the tech, but also home damage for the homeowner. You don't want to be liable for accidents caused by inefficient repairmen, inquire about the safety precaution tools taken by your HVAC technician to help prevent accidents.
Call Honest Abe's Home Services
Honest Abe's Home Services provides a variety of plumbing and HVAC services to O'Fallon, IL area and beyond. Their team of craftsmen is highly trained and knowledgeable. To find out more about what their expert plumbing, heating, and air conditioning services can do for you, give them a call today.